Course Description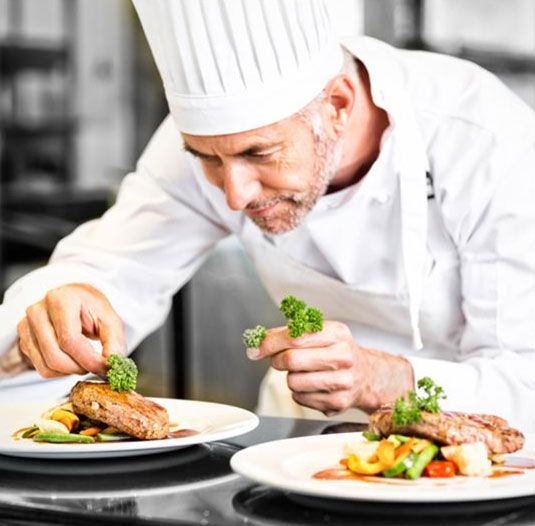 SIT40516 qualification reflects the role of commercial cooks who have a supervisory or team leading role in the kitchen. They operate independently or with limited guidance from others and use discretion to solve non-routine problems.
Career Outcomes
SIT40521 Certificate IV in Kitchen Operations provides you the career pathways to a variety of Hospitality enterprises as
Kitchen Manager
Owner Operator
Qualified Cook or Commis Chef etc
Possible job titles include:
This qualification is delivered as Apprenticeship & Traineeship delivery in ACT only.
* For Traineeship/Apprenticeship programs, employers are responsible for all relevant police checks.
For ACT Residents, for more information on eligibility, please refer to link: https://www.act.gov.au/skills
A total of 33 Units of Competency must be achieved as specified below.
National Unit Code
Core Units – 27
SITHCCC023 Use food preparation equipment
SITHCCC027 Prepare dishes using basic methods of cookery
SITHCCC028 Prepare appetisers and salads
SITHCCC029 Prepare stocks, sauces and soups
SITHCCC030 Prepare vegetable, fruit, eggs and farinaceous dishes
SITHCCC031 Prepare vegetarian and vegan dishes
SITHCCC035 Prepare poultry dishes
SITHCCC036 Prepare meat dishes
SITHCCC037 Prepare seafood dishes
SITHCCC041 Produce cakes, pastries and breads
SITHCCC042 Prepare food to meet special dietary requirements
SITHCCC043 Work effectively as a cook
SITHKOP010 Plan and cost recipes
SITHKOP012 Develop recipes for special dietary requirements
SITHKOP013 Plan cooking operations
SITHKOP015 Design and cost menus
SITHPAT016 Produce desserts
SITXCOM010 Manage conflict
SITXFIN009 Manage finances within a budget
SITXFSA005 Use hygienic practices for food safety
SITXFSA006 Participate in safe food handling practices
SITXFSA008 Develop and implement a food safety program
SITXHRM008 Roster staff
SITXHRM009 Lead and manage people
SITXINV006 Receive, store and maintain stock
SITXMGT004 Monitor work operations
SITXWHS007 Implement and monitor work health and safety practices

Elective Units – 6
SITHCCC026 Package prepared foodstuffs
SITHCCC040 Prepare and serve cheese
SITHCCC038 Produce and serve food for buffets
SITHFAB025 Prepare and serve espresso coffee
BSBTWK501 Lead diversity and inclusion
SITXWHS006 Identify hazards, assess and control safety risks

*AAAS recommends the above elective units based on extensive consultation with the industry experts.
Pathways into the qualification
Successful completion of: SIT30821 Cert III in Commercial Cookery
Pathways from the qualification
Upon successful completion of SIT40521 Certificate IV in Kitchen Management, candidates may apply for SIT50421 Diploma of Hospitality Management at an RTO or seek course credit towards a degree at a University of their choice
We provide flexible delivery which includes a combination of online, face-face, on-the-job, self-paced and distance learning options through (internet/video calls/webinar/Learning Management systems (LMS).
This qualification is delivered as flexible delivery over 18 months duration.
Work Place Activity Requirements
Service periods: 192 hours(48 service periods of 4 hours each)
AAAS's Training and Assessment Strategy is developed in consultation with the employer groups to ensure the training meets the industry requirements.
This qualification is delivered as Apprenticeship & Traineeship delivery in ACT only.
Extension will be granted under special circumstances
ACT
Fees
For learner who live & work in ACT and satisfy eligibility criteria for ACT Skilled Capital or Australian apprenticeship program fees may differ. To check your eligibility please email us at info@aaas.edu.au or complete enquire form.
Australian Apprenticeship program
$350
Fee-For-Service
Fees
Tuition Fees
$999 *
Direct Credit Transfer, Extension, Deferral and Certificate re-issue.
$0
Total course fees includes all study materials, training and assessment services.
Fees may be paid in instalments through AAAS flexible payment plan. Following your course commencement, any instalments (not more than $1000) are collected as per your course progression at any given time.
A Deposit of $120 must be paid prior to the Cooling-Off Period for AAAS to issue your Confirmation of Enrolment (CoE).
For ACT learners to get further information please visit https://www.skills.act.gov.au/students
For further support and assistance please fill 'Need Help?' Form