Course Description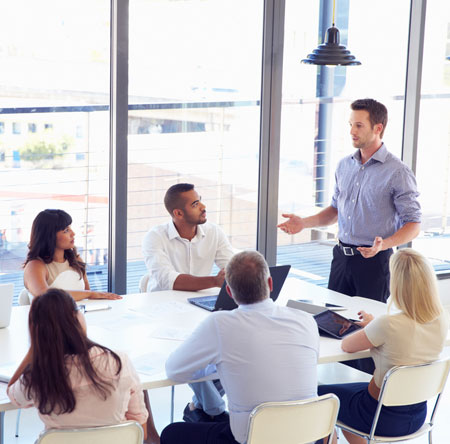 BSB50420 qualification reflects the role of individuals who apply knowledge, practical skills and experience in leadership and management across a range of enterprise and industry contexts.
Individuals at this level display initiative and judgement in planning, organising, implementing and monitoring their own workload and the workload of others. They use communication skills to support individuals and teams to meet organisational or enterprise requirements.
Career Outcomes
Successful completion of this course may provide employment opportunities such as
Executive Officer
Business Development Manager
Project Consultant
Compliance Manager (Local Government)
Office Manager
Business Sales Team Leader
Administrator
Corporate Services Manager
Administration Manager (Local Government),Evaluation
Records Management Coordinator
Team Leader
Procurement Officer
Unit Leader, Project Coordinator
Administration Manager
Customer Service Manager
Procurement and Contract Manager
Records Manager
Environmental Compliance Officer (Local Government)
* For Traineeship/Apprenticeship programs, employers are responsible for all relevant police checks.
For ACT Residents, for more information on eligibility, please refer to link: https://www.act.gov.au/skills
A total of 12 Units of Competency must be achieved as specified below.
Core Units – 6
BSBPEF502 Develop and use emotional intelligence
BSBLDR523 Lead and manage effective workplace relationships
BSBCMM511 Communicate with influence
BSBCRT511 Develop critical thinking in others
BSBTWK502 Manage team effectiveness
BSBOPS502 Manage business operational plans
Elective Units – 6
BSBPEF501 Manage personal and professional development
BSBLDR521 Lead the development of diverse workforces
BSBLDR522 Manage people performance
BSBFIN501 Manage budgets and financial plans
BSBOPS504 Manage business risk
BSBOPS505 Manage organisational customer service
*AAAS recommends the above elective units based on extensive consultation with the industry experts.
Pathways into the qualification
Learners who have successfully completed a vocational qualification at a Certificate IV in Leadership and Management, Certificate III / Certificate IV in Business, or any other qualification.
Pathways from the qualification
Upon successful completion of BSB50420 Diploma of Leadership and Management, graduates may pursue BSB60420 Advanced Diploma of Leadership and Management to develop higher level of expertise across a wider range of business functions
We provide flexible delivery which includes a combination of online, face-face, on-the-job, self-paced and distance learning options through (internet/video calls/webinar/Learning Management systems (LMS).
This qualification will be delivered over a period of 24 months
AAAS 's Training and Assessment Strategy is developed in consultation with the employer groups to ensure the training meets the industry requirements.
Extension will be granted under special circumstances
ACT
Fees
For learner who live & work in ACT and satisfy eligibility criteria for ACT Skilled Capital or Australian apprenticeship program fees may differ. To check your eligibility please email us at info@aaas.edu.au or complete enquire form.
Australian Apprenticeship program
$350
Fee-For-Service
Fees
Tuition Fees
$999 *
Direct Credit Transfer, Extension, Deferral and Certificate re-issue.
$0
Total course fees include all study materials, training and assessment services.
* Fees may be paid in instalments through AAAS flexible payment plan. Following your course commencement, any instalments (not more than $1000) are collected as per your course progression at any given time.
A Deposit of $120 must be paid prior to the Cooling-Off Period for AAAS to issue your Confirmation of Enrolment (CoE).
For ACT learners to get further information please visit https://www.skills.act.gov.au/students
For further support and assistance please fill 'Need Help?' Form