Course Description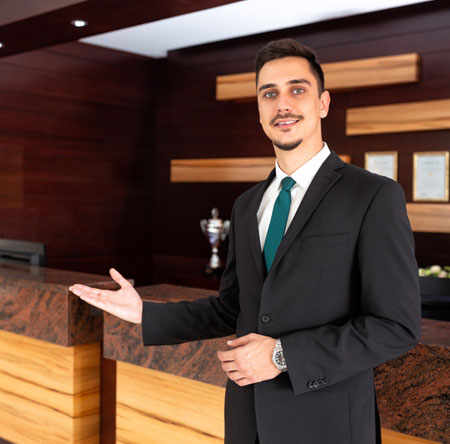 SIT50416 qualification reflects the role of highly skilled senior operators who use a broad range of hospitality skills combined with managerial skills and sound knowledge of industry to coordinate hospitality operations. They operate independently, have responsibility for others and make a range of operational business decisions.
This qualification provides a pathway to work in any hospitality industry sector as a departmental or small business manager. The diversity of employers includes restaurants, hotels, motels, catering operations, clubs, pubs, cafés, and coffee shops. This qualification allows for multiskilling and for specialisation in accommodation services, cookery, food and beverage and gaming.
Possible job titles include:
banquet or function manager
bar manager
café manager
chef de cuisine
chef patissier
club manager
executive housekeeper
front office manager
gaming manager
kitchen manager
motel manager
restaurant manager
sous chef
unit manager catering operations
* For Traineeship/Apprenticeship programs, employers are responsible for all relevant police checks.
For ACT Residents, for more information on eligibility, please refer to link: https://www.act.gov.au/skills
A total of 28 Units of Competency must be achieved as specified below.
Core Units – 13
BSBDIV501 Manage diversity in the workplace
BSBMGT517 Manage operational plan
SITXCCS007 Enhance customer service experiences
SITXCCS008 Develop and manage quality customer service practices
SITXCOM005 Manage conflict
SITXFIN003 Manage finances within a budget
SITXFIN004 Prepare and monitor budgets
SITXGLC001 Research and comply with regulatory requirements
SITXHRM002 Roster staff
SITXHRM003 Lead and manage people
SITXMGT001 Monitor work operations
SITXMGT002 Establish and conduct business relationships
SITXWHS003 Implement and monitor work health and safety practices

Elective Units – 15
BSBITU312 Create electronic presentations
BSBITU306 Design and produce business documents
SITHIND001 Use hygienic practices for hospitality service
SITHIND004 Work effectively in hospitality service
SITXMPR007 Develop and Implement Marketing Strategies
SITHIND002 Source and use information on the hospitality industry
BSBCMM401 Make a presentation
BSBADM502 Manage Meetings
SITXHRM004 Recruit, select and induct staff
SITXHRM006 Monitor staff performance
SITXWHS002 Identify hazards, assess and control safety risks
BSBRSK501 Manage risk
SITXFIN002 Interpret Financial Information
BSBFIA401 Prepare financial reports
SITXFIN001 Process financial transactions
*AAAS recommends the above elective units based on extensive consultation with the industry experts.
Career Outcomes
Banquet or function manager bar manager, cafe manager, chef de cuisine, chef patisserie, club manager, executive housekeeper, front office manager, gaming manager, kitchen manager, motel manager, restaurant manager, sous chef, unit manager, catering operations
Pathways from the qualification
Upon successful completion of SIT50416 Diploma of Hospitality Management, candidates may apply for SIT60316 Advanced Diploma of Hospitality Management at an RTO or seek course credit towards a degree at a University of their choice.
Participants enrolled in this qualification will be required to have full access to a workplace or have had previous access to a workplace. Learners will be required to complete a log book to demonstrate that you have participated in 36 shifts in a hospitality environment and have undertaken certain activities within this working environment. This is a mandatory requirement for SITHIND004 Work effectively in hospitality service.
We provide flexible delivery which includes a combination of online, face-face, on-the-job, self-paced and distance learning options through (internet/video calls/webinar/Learning Management systems (LMS).
This qualification is delivered as flexible delivery over 21 months duration.
AAAS 's Training and Assessment Strategy is developed in consultation with the employer groups to ensure the training meets the industry requirements.
In doing so, the required "Amount of Training" for this qualification are analysed and calculated to 15 hours per week for each learner/target groups over 21 months delivery. To ensure you get adequate opportunities for learning, engaging with your trainers and assessors to develop your knowledge and practice activities, we recommend you will require a commitment of at least 15 hours per week. This will enable you to grasp the knowledge and provide you with an understanding of how to apply them prior to being assessed for the relevant unit of competency.
Extension will be granted under special circumstances
ACT
Fees
For learner who live & work in ACT and satisfy eligibility criteria for ACT Skilled Capital or Australian apprenticeship program fees may differ. To check your eligibility please email us at info@aaas.edu.au or complete enquire form.
Australian Apprenticeship program
$350
Fee-For-Service
Fees
Tuition Fees
$2999 *
Direct Credit Transfer, Extension, Deferral and Certificate re-issue.
$0
Total course fees includes all study materials, training and assessment services.
Fees may be paid in instalments through AAAS flexible payment plan. Following your course commencement, any instalments (not more than $1000) are collected as per your course progression at any given time.
A Deposit of $120 must be paid prior to the Cooling-Off Period for AAAS to issue your Confirmation of Enrolment (CoE).
For ACT learners to get further information please visit https://www.skills.act.gov.au/students
For further support and assistance please fill 'Need Help?' Form